Find a Distributor
Want to know where you can buy SAM products? Enter your postcode to find your nearest distributors.
FAQs
We have compiled a list of Frequently Asked Questions so you can find the answers you need quickly.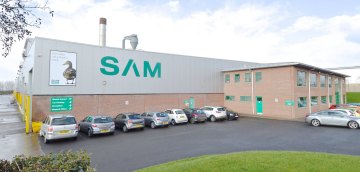 +44(0)28 9442 8288
SAM Antrim
Newpark Industrial Estate
Greystone Road
Antrim
Northern Ireland
BT41 2RU

Company Reg: NI24953
VAT No: GB516777223

SAM Donington
Mill Lane
Donington
Spalding
PE11 4TL
For information on air travel, accommodation, restaurants and things to do in Northern Ireland have a look at the Visit Northern Ireland section of our website.
Follow us on social media …